1-5 Holy Mountain



World

Light

Chapter

Bandage?

No

Warp Zone

A+ Time

11.00

Previous

Next
Holy Mountain is the fifth level of the first chapter of Super Meat Boy. The level involves scaling a tall mountain and is the last of the tutorial levels. It serves to introduce jumping straight up a wall and also warp zones, containing the first warp zone in the game, Sky Pup.
This level will require you to do a single wall-jump up the first wall. Simply hold right while jumping to get up. The rest of the level is just jumping up walls. The warp zone is very easy to get, just by jumping into the room at the top. The warp zone disappears after 17 seconds.
View a video walkthrough here.
If you want a fast speed for this level, just move quickly and you can get a time of about 6.10. There's nothing specific you have to do.
"The Holy Mountain" is the name of a movie directed by Alejandro Jodorowski. He also directed "El Topo".
Dark World
Edit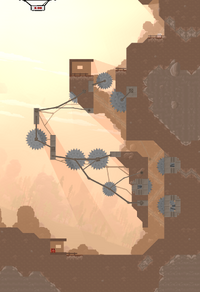 1-5X Creamsoda
Edit
Creamsoda is the dark world counterpart to Holy Mountain. It is very similar, but with saws everywhere and some terrain changes. It has a bandage, which requires you to slide up the wall it's on just enough to reach it but also not far enough up to hit the top saw.
Bandage: Yes (Not shown in picture)
A+ time: 10.00
The first part is similar to the light world, but you have to jump in between some saws on the walls. Then you get to the area with the bandage, mentioned before. It is possible to slide between two of the saws to skip the rest of the level, but this is hard to do. Normally you would go around by jumping on the platforms to the left, then up and over.
Again, this level is pretty linear, so doing it fast will lend you a time of about 6.40. While very, very precise, you can slip between the saws as mentioned earlier and get a time of 6.00, but this is extremely risky and not something that should be done in a speedrun unless that trick is extremely well practiced.
There is a glitch under the vertical bar after two adjacent saws. Use The Kid, Ogmo, Josef, or Steve to get there. When you bump on its below end, it becomes a climbing point.
Also, if you use The Kid, Ogmo, or Josef to jump over the smaller saw to get there, jump twice under two adjacent saws and the vertical bar, and it results a triple jump (for Josef it is double jump before "Robo-spin").