Chapter 1: The Forest
Comments

10
144pages on
this wiki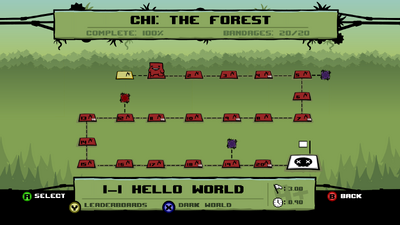 The Forest is the first world in Super Meat Boy. Due to being the first world, it is fairly straightforward to pass through and is by far the easiest world in both the Dark and Light versions of each level. The first few levels are tutorial-like for beginners.
After beating at least 17 levels, the boss of this world is unlocked, called Lil' Slugger. Dr. Fetus uses a large vehicle with a chainsaw on the front to try and kill Meat Boy. All Meat Boy has to do is reach the end of the level while dodging the saws and staying ahead of Dr. Fetus. Sprinting is required to stay ahead of him to reach the goal. Once he makes it to safety, Lil' Slugger will break down and the boss level is over; Chapter 2 will be unlocked.
The music for Chapter 1 is as follows: "Forest Funk" for the Light World, "Ballad of the Burning Squirrel" for the Dark World and "The Battle of Lil' Slugger" for the boss.
Levels (Light World)
Edit
Levels (Dark World)
Edit
Other Levels
Edit
"The Battle of Lil' Slugger" is going to be a playable song, which can be downloaded from the Rock Band Network. This also applies to "Betus Blues RETRO" and "Can o' Salt".
The Forest is one of the areas to appear in the Flash game Meat Boy that reappeared in Super Meat Boy. The Light World uses a remixed version of The Forest theme from Meat Boy.
The intro cinematic for The Forest is a reference to the intro for the arcade version of Street Fighter 2.
In Super Meat Boy: The Game, the Forest's replacement is The Green Hills.
The level Sky Pup was named in reference to a song by The Melvins.