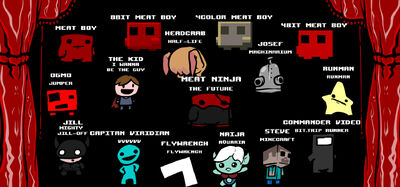 Super Meat Boy (PC version) consists of 16 Playable Characters (including the Secret Characters, 20 Characters). You can unlock them by collecting Bandages (new character every 10th Bandage), discovering Character Warp Zones and by reaching a certain percent on Total Progress!
Guide on How to Unlock the Characters

Switch Character Methods
Edit
To switch a character during gameplay, you can easily access the Character Selection screen by pressing Start or Pausing the game (either way, just press Esc). From there, choose "Switch Character" - after that, simply choose one of the Available Characters!

After you unlock your first playable character, other than Meat Boy, simply choosing a Level from the Map will take you to a Character Selection screen!



Secret Characters
Edit
While the 16 Official Characters are unlocked through Bandage Collection, Warp Zones and Percentage Reach, 4 more characters can be controlled through certain Methods. It is still unknown if these 4 Characters are the only Secret Playable characters in the PC Version of Super Meat Boy. What is known, is that Alien Hominid will appear as a Playable Character in the Ultra Edition, exclusive for PC, sometime in April!
After selecting a level, a Character Selection Screen will appear (curtains on each side), do one of the following:
Brownie (Poop version of Meat Boy): not on keyboard, only gamepad. Xbox 360 Controller, press, RB RB RB B B B X, and choose any character (NOTE: This won't work until you Beat Chapter 3 Boss)
Goo Ball (From World of Goo): on your keyboard, type, ballgoo, and choose any character
Super Tofu Boy (A Parody of a Parody): on your keyboard, type, petaphile, and choose any character
Tim(From Braid): on your keyboard, type, outtatime, and choose any character
In Chapter 6, you can only play as Meat Boy
In Chapter 7, you can only play as Bandage Girl
8Bit, 4Bit & 4Color Meat Boy can only be chosen on the Selection Screen after accessing a Level from the Map
Ad blocker interference detected!
Wikia is a free-to-use site that makes money from advertising. We have a modified experience for viewers using ad blockers

Wikia is not accessible if you've made further modifications. Remove the custom ad blocker rule(s) and the page will load as expected.