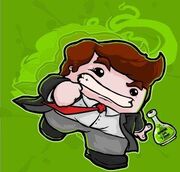 Tim is the protagonist of indie title "Braid", a game available on Xbox Live Arcade and Steam. He's an unlockable character for the Xbox 360 version of
Super Meat Boy
by collecting 50 Bandages.
He has the ability to rewind time 3 seconds. This can be used for Bandages as once one is obtained, rewinding time will not make it appear again. He cannot rewind time however if he dies, and he also cannot run.
Unlocking him in the Xbox 360 version will get the achievement "Business Time".
Tip: You can also play as tim in the PC/Steam version of the game. In the character select screen, just type "outtatime" and choose any character. (you won't hear "PUSH THE BUTTONS!" but it still works.)
Some bandages are also nearly impossible to get without him or a character that can double jump
Pro: can rewind time to get bandages and keys.
Con: Can't run