Unlockable Characters
Comments

20
144pages on
this wiki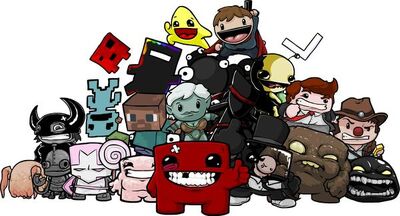 Super Meat Boy has unlockable characters that can be obtained, provided the player either beats a character specific warp zone or collects enough Bandages.
The XBLA and Steam versions have different characters, but most have similar abilities (Gish and Headcrab are very similar).
Some characters require a code to be typed on the character select screen. Once the code is typed, just select the character who is currently selected. The code must be typed every time you want to play as that character.
Each character represents a different indie title (with the exception of Headcrab). Below are all the unlockable characters and which games they originated from:
*Meat Boy has unlockable versions of himself at 40, 60 and 80 Bandages and are available in all versions
**Code input only for the Steam version
Alien Hominid was only for the XBLA version but after the release of Super Meat Boy: Ultra Edition, he was added to the Steam version.
The reason you can only play as Dr fetus in Devmode is possibly because his movement patterns in his boss battle are actually a recorded run of the level as Dr fetus.